Those who have been following developments at View from the Right will note that the moderator and essayist Lawrence Auster has been suffering very poor health recently. Mark Richardson writes at OzConservative:
Lawrence Auster has performed invaluable work at View from the Right. It has been the flagship of the traditionalist movement for the past decade; I for one feel an immense gratitude for his labours and will be praying for his health tomorrow.
Auster is the author of The Path to National Suicide (reviewed by Patrick Buchanan in 1991 for the mainstream press) and the two dissertations Erasing America and Huddled Clichés – works that have earned him the reputation of being one of the most hard hitting spokesmen for the restrictionist movement in the United States. Many of his works are centrally linked and archived at his "unofficial" website. His attitude to the political status quo is encapsulated in the 9 August 2008 declaration:
I declare that this government is no longer a constitutional and moral form of government. I will deal with it, and I will obey its laws, and I will support it when it is defending our country from foreign and domestic enemies. I will vote in its elections and participate in its political debates. But I will never accept it. I aim at a restoration of constitutional and moral order.
Arguing for an honest conservatism that does not pander to liberal sensibilities, his commentary now primarily appears on his blog while he has also attended various speaking events on the traditionalist right. Conservatives from around the Anglosphere are organising a prayer vigil between 5:00pm and 6:00pm today to help Auster through the process of his cancer treatment. Kristor at the Orthosphere writes:
The vigil will happen in your time zone from 5:00 to 6:00 pm, Sunday, January 13. As evening falls, light a candle in an often used room, where those of your household will often see and take note of it. A burning flame is inherently interesting, and likely to be noticed. After you light the candle, and whenever you notice it again during the hour of the vigil, say a short prayer for Lawrence; something like this:
O LORD our Governor, whose help is in all the world, and by whom all things are made: bless now and keep thy servant Lawrence Auster, relieving him of all his troubles and travails, salving and healing all his wounds and illnesses, and restoring him to fullness of life in thee; and, at the last, call him home to everlasting joy in thy Heavenly Kingdom. All this I pray, in the Name of the Father, and of the Son, and of the Holy Ghost. Amen.
Or, just:
O LORD, I pray thee bless, keep and heal thy servant, Lawrence. Amen.
Or, pray wordlessly. The form of the prayer is important only because it helps form the intention thereof.
More information can be found at the Orthosphere. We encourage all those Traditionalists in the Sydney region to join the prayer vigil, or if that is not possible, bear him in your thoughts tonight.
– SydneyTrads Editors
UPDATE (15 January 2013)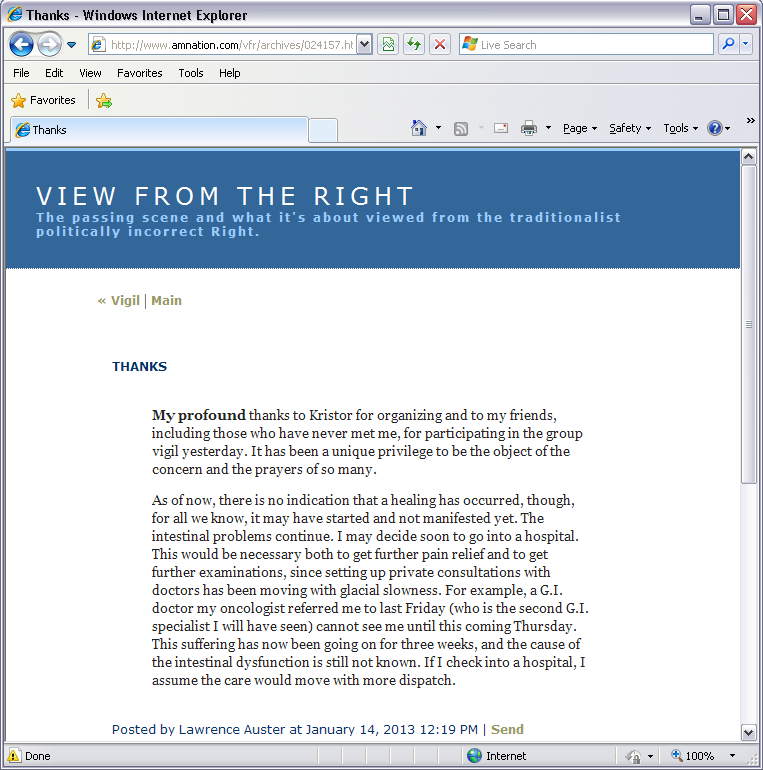 Lawrence Auster has posted a thank-you note at View from the Right in gratitude to all those who took part in the intercession prayer last Sunday. His ailments are still giving some pain and discomfort but there are medical options available that may provide him with the much needed relief. Auster's message can be read by following the linked image to the left. We wish him the best of health for 2013 and hope that he can continue his traditionalist evangelism well into the age of Obama and beyond.
SydneyTrads is the internet portal and communication page of the Sydney Traditionalist Forum, an association of individuals who form part of the Australian paleoconservative, "traditionalist conservative" and "independent right".