They stare at Windows all the livelong day,
Yet breathe in no fresh air.
Despite new means of contact now in play,
Communication's rare.
They trap their fragile hearts inside the Net,
Both close and miles apart,
To lovers whom they've never really met,
Exposing all their heart.
They journey in their solitary cells
Ignoring those outside.
At human error, savage road rage wells,
And turns to homicide.
On public transport persons sit alone
On seats designed for two.
To guard their sacred "space", they'll not condone
A stranger in their "pew".
More broken homes, divorces on the rise,
More wars on every scale.
Each moment one more soul of hunger dies,
And moral values fail.
Where once we talked to humans on the phone,
A robot takes their place.
Where are the human persons, flesh and bone,
Who once talked face-to-face?
A pickaxe could not penetrate the ice,
That traps these people's souls.
Yet one child's heart of love just might suffice,
To melt it as with coals.
So let us keep our hearts and minds alight,
With holy heaven's fire.
The ice once melted, human souls take flight,
To warmth and joy aspire.
Let us not yield but fight this present curse,
With human warmth and love.
Although this modern "life" may seem perverse,
We're helped by God above.

– Emile Joseph
The author teaches the English language to adult migrants and is passionate about all things linguistic. He is also a serious conservative at heart, who treasures the beauty, the poetry and the gallantry of yesteryear. He is happily married with two young children in Sydney.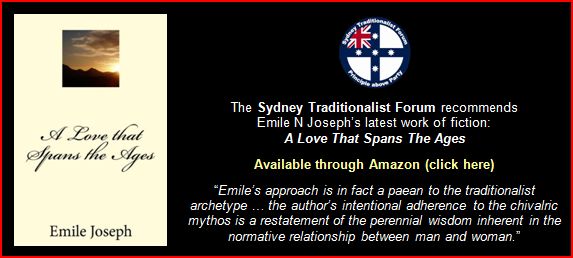 SydneyTrads is the internet portal and communication page of the Sydney Traditionalist Forum: an association of young professionals who form part of the Australian paleoconservative, traditionalist conservative, and independent right.