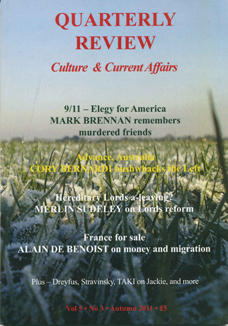 The Autumn issue of the British Quarterly Review contains an interview with South Australian Senator Cory Bernardi.
The interview, "A Conservative Maverick in the Antipodes" is the first time an Australian Member of Parliament has been featured in the history of the British journal.
The Quarterly Review dates back to 1809 but ceased publication in 1967. It was recently revived in 2007 as a journal of cultural and political commentary for the independent right.
In the current issue, Senator Bernardi is asked about the problems conservative politicians face when trying to break through the glass ceiling of modern liberal politics, the current state of the 'culture wars', the threat posed by Green politics and jihad, the impact feminism has had on the near impossibility of addressing men's issues in policy, immigration, culture and community. Also mentioned were Senator Bernardi's Conservative Leadership Foundation and his two recent books As I see It (2009) and No Left Turn (2011).
We thank the Quarterly Review for this issue and recommended the journal to Australian traditionalists. Subscriptions can be obtained from the Quarterly Review website. For more details, see the Recommended Periodicals page at SydneyTrads.
– SydneyTrads Editors
Update: the advertisement for Cory Bernardi's The Conservative Revolution was added below on 4 February 2014.
SydneyTrads is the internet portal and communication page of the Sydney Traditionalist Forum, an association of individuals who form part of the Australian paleoconservative, "traditionalist conservative" and "independent right".