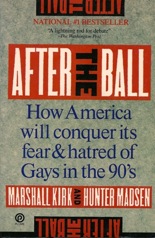 "We can extract the following principle for our campaign: to desensitize straights to gays and gayness, inundate them in a continuous flood of gay-related advertising, presented in the least offensive fashion possible. If straights can't shut off the shower, they may at least eventually get used to being wet."
▪ Marshall Kirk and Hunter Madsen, After the Ball: How America Will Conquer its Fear and Hatred of Gays in the 90s (Doubleday, 1989) extract from page 149.
SydneyTrads is the web page of the Sydney Traditionalist Forum: an association of young professionals who form part of the Australian independent right (also known as "non-aligned right").