What follows are programme notes for the "Conservative Song" segment of Radio Carpe Diem compiled by Dominik Giemza. The notes were produced for a broadcast of Monday, 16 August 2010, and form the basis of a live on-air discussion about conservative and traditionalist themes that can be inferred from items of popular music. Radio Carpe Diem is Australia's only paleoconservative and traditionalist radio programme and can be accessed online or free to air at 88.9FM at 8:00pm to 10:00pm Mondays (Sydney, Australia). Readers' comments are welcome here at SydneyTrads. Listeners are encouraged to tune in and engage in the discussion.
Cultivated Womanhood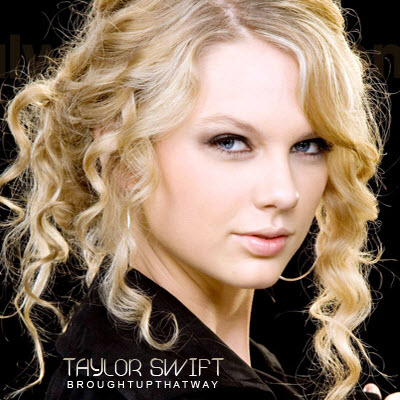 Introduction
Swift was born on December 13, 1989, the only daughter of Andrea Gardner (née Finlay), a homemaker, and Scott Kingsley Swift, a stockbroker. She was born in Wyomissing, Pennsylvania however when she was 14 her parents moved to Hendersonville a suburb of Nashville to help her pursue a singing career. Her maternal grandmother, Majorie Finlay, was an opera singer. Swift has a younger brother, Austin.
When she was in fourth grade, she won a national poetry contest with a three-page poem entitled "Monster In My Closet". She began writing songs regularly and used it as an outlet to help her with her pain from not fitting in at school. She was a victim of bullying, and often wrote songs to express her emotions.Swift also started performing at karaoke contests, festivals, and fairs around her hometown. When she was 12, she devoted an entire summer to writing a 350-page novel, which remains unpublished.
Swift attended Hendersonville High School, John Paul II High School and was subsequently homeschooled for her junior and senior years. In 2008, she earned her high-school diploma through Aaron Academy a Catholic home schooling support organisation.   Interestingly JPII High School was the site of the filming for Taylor Swifts music video "You Belong With Me". It was filmed in the football stadium and gym, using JPII football players, band members, cheerleaders and members of the senior class for the final prom scene.
Swift's greatest musical influence is Shania Twain. Her other influences include LeAnn Rimes, Tina Turner, Dolly Parton, and her grandmother. In her younger years, she developed a love for Patsy Cline and Dolly Parton.
She has a significant philanthropic CV for someone who is only 22. On September 21, 2007, Swift helped launch a campaign to protect children from online predators. She has teamed up with Tennessee Governor Phil Bredesen to combat internet sex crimes. The year-long campaign, in partnership with the Tennessee Association of Chiefs of Police, will distribute Internet safety information and materials to parents and students across the state. In early 2008, Swift donated the pink Chevy pick-up truck given to her by her record label to the children's charity, the "Victory Junction Gang"; in June, 2008, Swift donated all the proceeds from her merchandise sales at the 2008 Country Music Festival to Red Cross, the "Nashville Area Red Cross Disaster Relief Fund" and the "National American Red Cross Disaster Relief Fund."
Swift also donated $100,000 to the Red Cross in Cedar Rapids, Iowa to help the victims of the Iowa flood of 2008. Swift has teamed up with Sound Matters to make listeners aware of listening "responsibly." Swift supports "@15", a teen-led social change platform underwritten by Best Buy to give teens opportunities to direct the company's philanthropy through the newly-created "@15 Fund." Swift's song, "Fifteen", is featured in this campaign. Swift lent her support to the "Victorian Bushfire Appeal" by joining the lineup at "Sydney's Sound Relief" concert, reportedly making the biggest contribution of any artist playing at "Sound Relief" to the Australian Red Cross. Swift donated her prom dress, which raised $1,200 for charity, to "DonateMyDress.org." On November 20, 2009 after a live performance on BBC's "Children in Need" night Swift announced to Sir Terry Wogan she would donate £13,000 of her own money to the cause.
On December 13, Swift's own birthday, she donated $250,000 to various schools around the country which she had either attended or been involved with. Taylor Swift has donated a pair of her shoes – a gently-worn pair of black Betsey Johnson heels with her autograph on the sole – to the "Wish Upon a Hero" Foundation's "Hero in Heels" fundraiser for auction to raise money to benefit women with cancer. In response to the May 2010 Tennessee floods, Swift donated $500,000 during a flood relief telethon hosted by WSMV, a Nashville television station.
Notes for the Discussion
Danielle Bean on the website InsideCatholic.com wrote a fabulous defence of Swift in response to feminist criticism of her and the fact she spends much of her musical energy on "misogynist love story lyrics." According to feminist blog feministing Swift's lyrics describe her:
As someone perpetually under the ownership, or at least care, of a male authority. The lyrics describe her as not a woman, but as a "careless man's careful daughter" that her new boyfriend has "made a rebel of." This is problematic to me, in the sense that it implies a transfer of her ownership from one man to another. I think it's weird in this song that she doesn't seem to have any sense of her own identity away from the love interest, or her father.
But Danielle Bean blasts this out of the water as follows:
As a woman who considers the most important parts of her identity those of being someone's daughter, someone's wife, and someone's mother, and as a mom of a 15-year-old girl who is fairly certain that Taylor Swift walks on water, I have spent some time pondering the question of this particular country star's popularity.
Why is Swift so universally beloved? Sure, she can sing, but so can a lot of people. I think Swift has enjoyed unprecedented success, especially among female listeners, because she's not just a singer, she's a writer. But Swift is not just any writer. She's a writer with a rare gift for giving voice to the longings of young girls' hearts and souls. Feminists like Chloe and Jamie may not like it much, but little girls really do dream of being fairy princesses, meeting handsome princes, getting married and raising children. Just you try to stop them. The flowery details might vary from one young girl to the next, but the longing to find personal fulfillment in loving and being loved in return is a universally feminine one.
Women are uniquely capable of finding meaning through what Pope John Paul II calls "a sincere gift of self." In Mulieris Dignitatem, he reminds us:
A woman's dignity is closely connected with the love which she receives by the very reason of her femininity; it is likewise connected with the love which she gives in return. The truth about the person and about love is thus confirmed. With regard to the truth about the person, we must turn again to the Second Vatican Council: "Man, who is the only creature on earth that God willed for its own sake, cannot fully find himself except through a sincere gift of self.
Some women find personal fulfilment by responding generously to a call to a religious vocation. Others remain unmarried but devote their lives to nurturing others through their work, friendships, and volunteer efforts. But the vast majority of women respond to an instinctual drive to nurture and give of themselves to others by getting married and becoming mothers.
John Paul II called this drive to connect with and care for others part of our "feminine genius." However politically incorrect it might be to embrace it, we women only hurt ourselves, our families, and especially our daughters when we try to redefine our nature, hide our true desires, and pretend our "genius" is not real.
The Song
This song was released on the internet and as far as I am aware is not on one of Swifts three studio albums. In this song Swift tells the story of a father and a daughter who together face three seismic events in her life namely:
Verse 1 – her being bullied at school;
Verse 2 – her being the subject of sexual advances by her boyfriend; and
Verse 3 – her near death experience in a car accident.
It's a beautiful little piece that is really about the unquestioned passing on of wisdom through the generations and of the total devotion that the father has to his duty of bringing up his daughter as a happy well adjusted and healthy individual. Only in the last verse we find (quite melodramatically) that the father is a single father whose wife has passed away and this adds a further dimension to his resolve. The key is the chorus where the father justifies his actions in terms of duty:
Verse 1 – bullying: I didn't bring her up so they could shut her out;
Verse 2 – sex: I didn't bring her up so he could wear you down/ take that innocent heart and turn it inside out; and
Verse 3 – death: God I didn't bring her up to watch them lay her down.
But what is even more enlightening is the daughter's motivation which is in essence a duty of obedience that reflects a child's trust in the wisdom of her parents:
Emily's home late again
He sees that boy drive away
Oh but something's different this time
She doesn't have too much to say
She said, "He tried but there's just some things I won't do"
And through the tears she said, "I couldn't do that to you"
So she knows that teen sex is bad and that she is thinking of her duty to follow her father's teachings. And this is quite logical for it is ones parents that are familiar with how things go wrong in such situations, with the consequences of unwanted pregnancy and other problems like exploitation and abuse and the torment and damage it can cause to young people. So this is not about control, it's about protection, about passing on wisdom that says ones chastity is not something to be given up lightly, something based on the experience of parents that is passed on to children. But it's also about empowering youth to make their own sober and sensible decisions: "He tried but there's just some things I won't do" which is statement of feminine power, the power to say "NO", the power to resist peer pressure.
Indeed it is quite striking that a teenage singing idol whose songs resonate with stories of love should broach chastity in a song. I couldn't see Kesha or Lily Allen or Pink countenancing such a thing. Anyway I hope you enjoy this rarely heard song by a very popular artist and think of your daughters, of their hopes and dreams and of the wisdom that you would like to pass onto them.
Lyrics
Emily comes home from school
Grabs onto her daddy's hand
He says, "Baby girl, what's wrong with you?"
She says, "Please don't make me go back there again."

She said, "I wish there was some way to make them stop it."
So he drives down to that principles office
And says, "I didn't bring her up so they could cut her down
I didn't bring her here so they could shut her out
I'd live my whole damn life to see that little girl smile
So why are tears pouring down that sweet face?
She wasn't brought up that way."

Emily's home late again
He sees that boy drive away
Oh but something's different this time
She doesn't have too much to say
She said, "He tried but there's just some things I won't do"
And through the tears she said, "I couldn't do that to you"

And he said, "I didn't bring you up so he could wear you down
Take that innocent heart and turn it inside out
I'd live my whole damn life to see my little girl smile
So don't let nobody take that away
You weren't brought up that way."

The phone rings on a rainy night
Says, "It's Officer Tate"
He said, "Sir, there's been an accident
You'd better come down here right away
A drunken driver missed an overpass
And Emily she's fading fast."

He says, "God I didn't bring her up to watch them lay her down
Nearly killed me the day they put her mama in the ground
Only thing that kept me alive was that little girls smile
So please don't take that away
It won't be easy taking her today, she wasn't brought up that way."

He stands over the hospital bed
Emily opens her eyes
– Dominik Giemza
The writer is a legal practitioner and the co-host of Carpe Diem Radio's regular segment: the "Conservative Song" . The above notes were drafted for a live and on air debate about conservative and traditionalist themes which can be found in popular music. Listeners can access Radio Carpe Diem either on air at 2RSR 88.9FM in the greater Sydney region, each Monday between 8:00pm and 10:00pm, or streaming live via TuneIn.com. Feedback is welcome.
SydneyTrads is the internet portal and communication page of the Sydney Traditionalist Forum: an association of young professionals who form part of the Australian paleoconservative, traditionalist conservative, and independent right.