What follows are programme notes for the "Conservative Song" segment of Radio Carpe Diem compiled by Dominik Giemza. The notes were produced for a broadcast of Monday, 1 November 2010, and form the basis of a live on-air discussion about conservative and traditionalist themes that can be inferred from items of popular music. Radio Carpe Diem is Australia's only paleoconservative and traditionalist radio programme and can be accessed online or free to air at 88.9FM at 8:00pm to 10:00pm Mondays (Sydney, Australia). Readers' comments are welcome here at SydneyTrads. Listeners are encouraged to tune in and engage in the discussion.
The Cost of a Right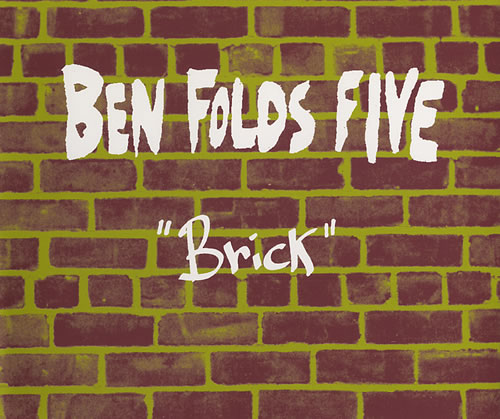 Introduction
Continuing with our 1990s anti-abortion theme – tonight's song is Brick from the "Ben Fold's Five" – a song which through extensive airplay by our own politically approved youth radio network (i.e. the ABC's Triple J FM) was much more popular than in its native USA where it was a minor indie rock tune. This is rather ironic as although it was written as a politically neutral piece it powerfully expresses the devastating consequences of abortion for young people.
Background
"Ben Folds Five" was an alternative rock trio formed in 1993 in Chapel Hill, North Carolina (allegedly Ben Folds thought it sounded better than being called The Ben Folds Three). The group comprised Ben Folds (vocals, piano, and principal songwriting), Robert Sledge (bass guitar and backing vocals), and Darren Jessee (drums, backing vocals and co-writer for some songs). The group achieved mainstream success in the alternative, indie and pop music scenes.
The band is best known for tonight's song which was from their 1997 album "Whatever and Ever Amen" and was considered one of their most "mainstream" tunes. The song reached number 13 in the ARIA charts in Australia and in the Triple J Hottest 100 of all time survey in 2009 the song was ranked 67. It did not do well in the mainstream US charts but did have some success in the alternative music charts.
There is nothing inherently conservative about Ben Folds or his band but by sticking to the "truth" of experience he has given us a very sad song that ends up striking a chord with conservatives. According to Wikipedia Ben Folds explained the song as follows:
"People ask me what this song's about… I was asked about it a lot, and I didn't really wanna make a big hairy deal out of it, because I just wanted the song to speak for itself. But the song is about when I was in high school, me and my girlfriend had to get an abortion, and it was a very sad thing. And, I didn't really want to write this song from any kind of political standpoint, or make a statement. I just wanted to reflect what it feels like. So, anyone who's gone through that before, then you'll know what the song's about."
Wiki continues:
"On Folds' recent iTunes Originals compilation, he confesses that he had attempted to write a song about the abortion for quite some time, but he had trouble getting the song finished because it was too literal, but thanks to Darren Jessee's chorus, the song was given just enough mystique to be the hit that it was. (Folds even jokes that 'I've never understood a hit chorus. I wish I did.')"
Of interest is the fact that Ben Folds was married to the subject of this song from 1987-1992, the first of his four marriages. The third was to an Australian which resulted in Ben living in Adelaide from 1998 to 2006.
Notes for the Discussion
The song made number 23 on the National Review Top 50 Conservative Songs List in 2006. John J Miller wrote in that list:
"Written from the perspective of a man who takes his young girlfriend to an abortion clinic, this song describes the emotional scars of 'reproductive freedom.'"
The man's perspective shines through in this particular line:
Can't you see,
It's not me you're dying for,
Now she's feeling more alone,
Then she ever has before.
These words are addressed to the baby that is dying. They may be the words of the mother disclaiming responsibility for her act but are more likely male singer expressing the view that it is not "his" choice and that this is not a decision he has made. The female, presumably initially worried about being an unmarried teen ("alone") is now feeling more alone after the act. The reference to death means that whatever their political leanings our singer is not treating this as something which in the feminist dystopia is akin to having a wart removed. This situation has consequences for three human lives and the aftermath has not one but three victims, all suffering in their own way:
As weeks went by,
It showed that she was not fine.
And further:
For the moment we're alone,
She's alone,
I'm alone,
Now I know it.
The feeling of emptiness is all pervasive by the end of the song. What are a young couple if there is no spark of life between them – two individuals that could have been united by the gift of life are now lonely without it. It's as if the hopes and optimism of the relationship have evaporated. And what of the chorus – Is it really meaningless to a conservative?
She's a brick and I'm drowning slowly,
off the coast and I'm headed nowhere,
She's a brick and I'm drowning slowly.
It's not really stretching it much to liken this to a Fall in the Biblical sense. This is a profound loss of innocence for the singer as the acts of him and his partner in conceiving and then killing a child bring him from a youthful idyll to the harsh realities of life (and death).
Although professed to be neutral the song is so heartfelt that it makes one pose the inevitable question. Was the pain and loss worth it? Was abortion really a better 'choice' for the parents than giving the baby a chance at life? This is the real conservative nugget of the song.
But also what of the 'eggshell' caution of Ben Folds about the politics of his masterpiece?  One wonders whether in these censorious post-modern times the taboo topic of abortion can only be tippy toed around and that any unapproved thoughts expressed in song would be 'strangled at birth' by 'progressive' radio stations like Triple J. Indeed one would wonder if Mr Folds sang the same song but professed anything other than neutral views, whether there would have been as much recognition and airplay for this song. The fact that it has survived and prospered in this environment makes it a deliciously subversive piece of song writing.
Lyrics
6 am day after Christmas,
I throw some clothes on in the dark,
The smell of cold,
Car seat is freezing,
The world is sleeping,
I am numb.

Up the stairs to her apartment,
She is balled up on the couch,
Her mom and dad went down to Charlotte,
They're not home to find us out.

And we drive.

Now that I have found someone,
I'm feeling more alone,
Than I ever have before.

She's a brick and I'm drowning slowly.

They call her name at 7:30,
I pace around the parking lot,
then I walk down to buy her flowers,
And sell some gifts that I got.

Can't you see,
It's not me you're dying for,
Now she's feeling more alone,
Then she ever has before.

She's a brick and I'm drowning slowly,
off the coast and I'm headed nowhere,
She's a brick and I'm drowning slowly.

As weeks went by,
It showed that she was not fine,
They told me son it's time to tell the truth,
She broke down and I broke down,
Cause I was tired of lying.

Driving home to her apartment,
For the moment we're alone,
She's alone,
I'm alone,
Now I know it.
– Dominik Giemza
The writer is a legal practitioner and the co-host of Carpe Diem Radio's regular segment: the "Conservative Song" . The above notes were drafted for a live and on air debate about conservative and traditionalist themes which can be found in popular music. Listeners can access Radio Carpe Diem either on air at 2RSR 88.9FM in the greater Sydney region, each Monday between 8:00pm and 10:00pm, or streaming live via TuneIn.com. Feedback is welcome.
SydneyTrads is the internet portal and communication page of the Sydney Traditionalist Forum: an association of young professionals who form part of the Australian paleoconservative, traditionalist conservative, and independent right.