What follows are programme notes for the "Conservative Song" segment of Radio Carpe Diem compiled by Dominik Giemza. The notes were produced for a broadcast of Monday, 18 November 2013, and form the basis of a live on-air discussion about conservative and traditionalist themes that can be inferred from items of popular music. Radio Carpe Diem is Australia's only paleoconservative and traditionalist radio programme and can be accessed online or free to air at 88.9FM at 8:00pm to 10:00pm Mondays (Sydney, Australia). Readers' comments are welcome here at SydneyTrads. Listeners are encouraged to tune in and engage in the discussion.
Man and Family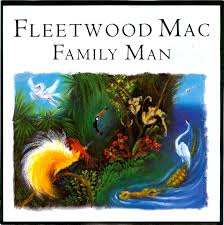 Tonight's Conservative Song is unusual in that it was probably an unremarkable lyric back in 1987 when it was released as part of the mega selling "Tango In The Night" album but today it would probably be banned as offending a whole raft of non-nuclear 'families.' The reason is that the 'middle ground' in cultural discourse has shifted so far to the left that filler song by a bland transatlantic megaband from the golden era of pretentious cocaine fuelled rock can sound like a traditionalist political anthem.
Today even so called conservative politicians speak a very careful language that treads on eggshells so lightly that they dare not even hint at disapproving of the changes that have occurred in the last 25 years, particularly in the private family sphere. Only recently an alleged conservative PM patted himself on not dropping the age of consent to 15 – like he was holding back a puddle in some invisible tide to total annihilation of the assumptions about human relationships that have underpinned all societies to date. It's this seismic shift that has left Lindsay Buckingham's ditty high and dry as a song that is rather conservative and probably offensive by its coda like repetition of very simple universal truths.
It's not a very complicated song lyrically although "Fleetwood Mac" fans would point out that the multi-layered recording with numerous vocal tracks was quite radical at the time. I seem to recall it was one of the earliest digitally mastered records. But it's this lack of complication, its repetition of concepts that would have sounded trite back in 1987 that makes it anthemic to the traditionalist. The first verse hints at the vicissitudes of life and that there are more important things than the occasional stumble.
Walk down this road,
When the road gets rough,
I fall down,
I get up,
I am what I am,
A family man.
But perhaps the reference may be to the occasional denial of the family life – of forgetting ones roots or stumbling on the road to starting one's own family say through a failed relationship or an affair (something no one in the band was a stranger to!). Lindsay was the boyfriend of Stevie Nicks when they joined "Fleetwood Mac" in 1974 (already an established and very successful rock band).
Needless to say that at the same time they were selling tens of millions of records and spending the money on cocaine the relationship fell apart as did the marriages of "Mick Fleetwood" and his wife as well as band members John and Christine McVie. The saga of affairs and relationships reads like a TV soap opera and even has spin offs like Stevie's much publicized affair with Don Henley of The Eagles. Or perhaps it has an aura of selling one's soul about it? Needless to say maybe Buckingham is looking for an antidote to the hedonism of the rock world. These words hark back to his own family:
Mother, father, brother,
Mother, father, brother.
Their repetition is what might annoy today's social engineers but it really is just an expression of the family and stability that Lindsay knew in his childhood in California. A bit of trivia here Lindsay actually had two brothers and one was Greg Buckingham a silver medalist in the 1968 Olympics. The next verse hints at both moral dilemma but also a certainty about certain eternal things:
Walk down this road,
In the cool of the night,
Don't know what's wrong,
But I do know what's right,
I am what I am,
A family man.
Then the repetition starts again:
Mother, father, brother,
Mother, father, brother,
I am what I am,
A family man.
And of course that is the centuries' old definition of a family, maybe with a sister or two thrown in. Something inescapable but obscured in today's cultural space where every mainstream 'family sitcom' or kiddies musical (like Glee – a Stevie Nicks favourite) is more radical in its challenge to traditional concepts than any 1970s rock and roll swinger, coke and tequila party.
I actually find the deep echo of "family man" that is repeated after the singer sings it quite disturbing. It's almost like Satan mocking the concept and this innocent song becomes part of a far greater struggle… but I digress… at least back to mere witchcraft… when I quite the self-professed 'white witch' Stevie Nicks from a 26 March 2011 article in The Guardian discussed her relationship with Buckingham and the spell of Fleetwood Mac:
"And we would have married and had children, 'cause we were headed that way. We didn't really mess up till we moved to Los Angeles. And that was when the whole world just ripped us apart."
Still, she says, "Fleetwood Mac was our destiny." But Buckingham doesn't feel the same way.
"I think he regrets it totally. I think he wishes we hadn't ever joined Fleetwood Mac and had just stayed together. Even though his life has now wound around to where he's married to a lovely girl and he's got three absolutely beautiful kids."
Nicks, meanwhile, is happily single. "It's a decision I made, to not get married and have children," she says, "because I want to always be free to follow my art wherever it takes me." Doesn't that say it all?
– Dominik Giemza
The writer is a legal practitioner and the co-host of Carpe Diem Radio's regular segment: the "Conservative Song" . The above notes were drafted for a live and on air debate about conservative and traditionalist themes which can be found in popular music. Listeners can access Radio Carpe Diem either on air at 2RSR 88.9FM in the greater Sydney region, each Monday between 8:00pm and 10:00pm, or streaming live via TuneIn.com. Feedback is welcome.
SydneyTrads is the internet portal and communication page of the Sydney Traditionalist Forum: an association of young professionals who form part of the Australian paleoconservative, traditionalist conservative, and independent right.