By the side of a pool, I can see a young child,
By the look on his face, he appears rather riled.
For his father and brother have told him to play,
In the small children's pool; he's unwilling to stay.
And he looks at the big pool, where big people swim.
If it's easy for them, then it's easy for him.
He's a big boy of three years of age, what's the fuss?
He convinces himself by his reasoning thus.
There is no time to waste; he gets up, starts to run.
He dives into the pool that he thinks is more fun.
He can swim, he can float, he can glide, he is free.
Over there is his father, "Oh Dad, can you see?"
His elation's short-lived, water enters his mouth,
So he cannot stay up, and he gravitates south.
He is choking and spluttering, flailing by now.
He must prove that he's able to make it, but how?
He must swim to his father and ask for his aid.
He swims out to his dad, but he's really afraid.
By the grace of the Lord, it's his brother who sees,
The young boy in distress, and who answers his pleas.
In a moment, his brother delivers the boy,
And returns him to land to his father's great joy.
And in case you are wondering, who it might be,
That young child who was out of his depth, that was me.
Friend, the life of all Christians today is that pool,
And our Father in Heaven has given a rule.
If we follow His orders and stay where we should,
We'll be safe and secure, for His guidance is good.
But in case we rebel and go out on our own,
To the deep and the dangerous waters unknown,
Our good Brother and Saviour is ready to save,
To redeem us, already His own life He gave.

– Emile Joseph
The author teaches the English language to adult migrants and is passionate about all things linguistic. He is also a serious conservative at heart, who treasures the beauty, the poetry and the gallantry of yesteryear. He is happily married with two young children in Sydney.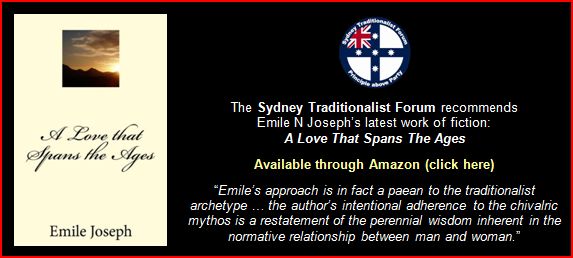 SydneyTrads is the internet portal and communication page of the Sydney Traditionalist Forum: an association of young professionals who form part of the Australian paleoconservative, traditionalist conservative, and independent right.