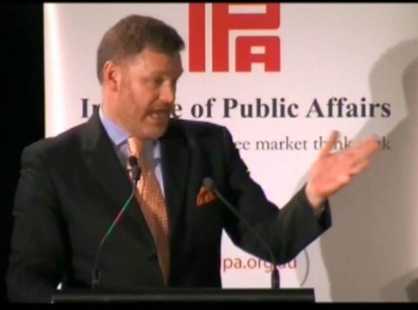 On the 29th of February, 2012, Canadian journalist and commentator Mark Steyn addressed a Sydney audience at the city Tattersalls Club. The event, jointly hosted by the Institute of Public Affairs and the Spectator Australia, was part of Steyn's Australian tour: "Freedom of Speech Under Threat".
Tom Switzer, who teaches at the United States Studies Centre at the University of Sydney, facilitated the event. Other guests included John Roskam of the IPA and Janet Albrechtsen, columnist for The Australian. Steyn delivered a lively speech, which was marked with his usual acerbic and witty criticism of leftist hypocrisy. A small contingent of Sydney's traditionalist conservative community also attended the event and spoke briefly to Steyn at the book signing (After America, Regnery 2012) immediately after the function.
– SydneyTrads Editors
SydneyTrads is the internet portal and communication page of the Sydney Traditionalist Forum, an association of individuals who form part of the Australian paleoconservative, "traditionalist conservative" and "independent right".