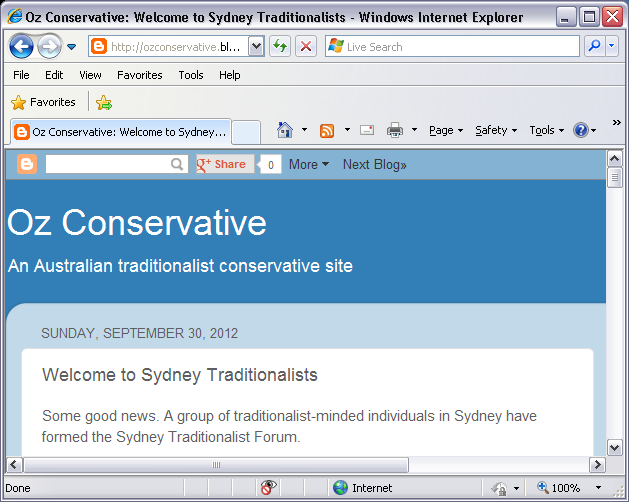 Sydney Traditionalists will be interested to know that we have been acknowledged by two conservative websites of commentary and opinion run from Melbourne, Victoria: the Australian Conservative and OzConservative. These two important online resources are essential for the dissemination of news that has not been filtered by politically correct censorship or skewed by liberal bias.
OzConservative, funded in April of 2004, is administered by Mark Richardson who blogs from Melbourne, Victoria. The blog contains detailed analysis of current affairs (political, social and cultural) all of which are approached from a specifically traditionalist conservative perspective. OzConservative has been frequently cited by other groups in the orthosphere such as Lawrence Auster's View from the Right and Laura Wood's Thinking Housewife.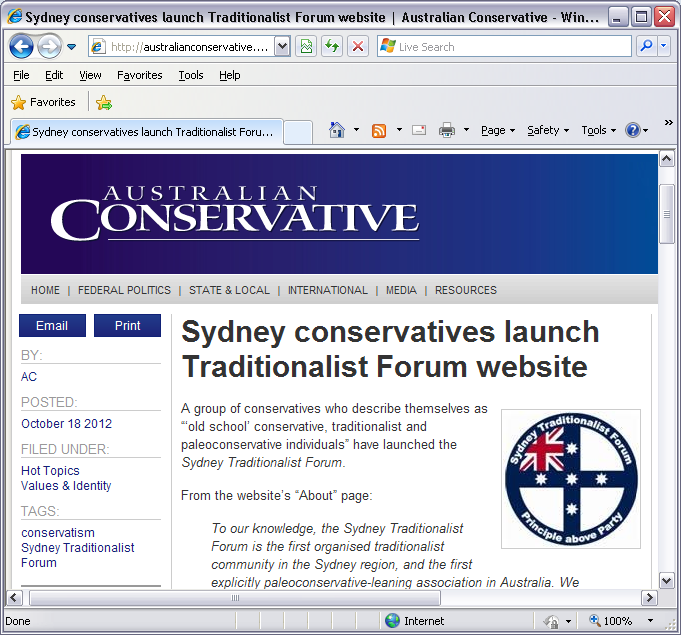 Of particular interest to readers will be Richardson's featured posts which explain fundamental concepts such as what "what is conservatism" and how it is distinguished from contemporary liberal thought. Another section of interest (especially to readers who feel they may benefit from some background information on what the conservative worldview is) is Mark Richardson's serialized ebooklet. This work in progress is broken up into convenient chapters which are periodically uploaded to the site. The first five already available to readers: "What is Shaping the West", "Autonomy Theory", "Sex Distinctions", "The Family" and "Nation and Ethny".
The Australian Conservative is described on its "About" page as "an outlet for conservative news, commentary and opinion." With thirty contributing writers on its masthead, editor and publisher John Styles has created a central point on the internet for Australian conservative news and analysis. Contributors include sitting members of parliament as well as well known and budding writers, social commentators and journalists. The site reports on issues of federal, state and local concern and also contains an international section for the Australian perspective on foreign affairs. Regular features are frequently updated and various functions and events are advertised on the site's main page. This robust site is gaining popularity among the conservative online readership, and for good reason.
Both these webpages are worth visiting regularly and we strongly recommend them to our readers and friends.
– SydneyTrads Editors
SydneyTrads is the internet portal and communication page of the Sydney Traditionalist Forum, an association of individuals who form part of the Australian paleoconservative, "traditionalist conservative" and "independent right".