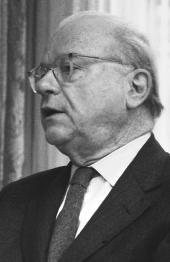 "Some of the ideals of the Enlightenment have not been realised. Others have been realised and are contradictory, and as a result, evil potentialities have been brought into reality. The spokesman for these ideals did not anticipate this. The tradition of emancipation has developed very far and in some respects it has exceeded the limits within which it was an ideal worthy of the highest exertions. Other parts of the ideal have turned out to be not as good as they were thought to be. The emancipation of mankind from superstition and from belief in magic has been carried so far that it has destroyed for many persons the ideal of a morally ordered universe in which some things were sacred. The praise of progress towards greater material well-being was motivated by a great ideal and it is still worthy of pursuit, although not be the arrangement through which it is now pursued but even when it was most effective, it was doing damage to other traditions of familial life, of religious beliefs, and of restraints on desire."
▪ Edward Shils, Tradition, (Faber and Faber, 1981) extract from pages 324 through to 325.
SydneyTrads is the internet portal and communication page of the Sydney Traditionalist Forum, an association of individuals who form part of the Australian paleoconservative, "traditionalist conservative" and "independent right".