What follows are programme notes for the "Conservative Song" segment of Radio Carpe Diem compiled by Dominik Giemza. The notes were produced for a broadcast of Monday, 19 July 2010, and form the basis of a live on-air discussion about conservative and traditionalist themes that can be inferred from items of popular music. Radio Carpe Diem is Australia's only paleoconservative and traditionalist radio programme and can be accessed online or free to air at 88.9FM at 8:00pm to 10:00pm Mondays (Sydney, Australia). Readers' comments are welcome here at SydneyTrads. Listeners are encouraged to tune in and engage in the discussion.
A Simple Kind of Virtue
Introduction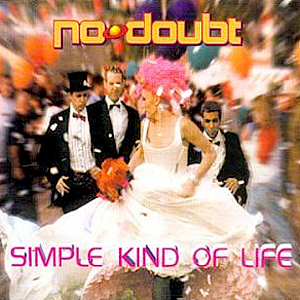 Gwen Renee Stefani is a fashion icon and musical superstar for generation X and Y, a cross between Jean Harlow and Madonna; she symbolizes elegance and edginess in one platinum plaited package. She was born in 1969 in Anaheim California of the union of a father with Italian heritage and a mother of Irish-Scottish ancestry. Dad is a marketing executive and mum is an accountant that turned professional homemaker, raising her four kids of which Gwen was the second oldest. There are no points for guessing they were Roman Catholic.
In her onstage debut at high school she sang a selection from "Sound of Music" which shows that perhaps her childhood was a bit tamer than that of many Southern Californians. No doubt was founded in 1986 by her older brother Eric. Soon after joining the band 17 year old Stefani started dating Tony Kanal the bass player. She was with him for a decade, putting some effort into the relationship, being quoted as saying "all I ever did was look at Tony and pray that God would let me have a baby with him" (The Observer, 30 January 2005).
It wasn't to be but they have maintained a relationship of musical collaboration ever since. She had better luck with British guitarist Gavin Rossdale whom she married at St Paul's Church in Covent Garden London in 2002 and has since had two sons with him. This is not quite sex, drugs and rock and roll but at least the second son has a proper rock star kid's name (Zuma Nesta Rock Rossdale). Apart from the discovery of a love child Rossdale had before they met, there has been relatively little seedy tabloid fodder provided by this couple.
The reason I delve into this tattle is that the song we have tonight is intensely personal and it is appropriate to show a little of the person involved.
The song: "A Simple Kind of Life"
Most of Stefani's songs have been written with others such as Tony Kanal, who continued with the band after their break up. This is the first "No Doubt" song she wrote entirely by herself as regards both lyrics and music (according to the liner notes for No Doubt: The Singles 1992-2003).
The song was written in early 2000 and with over 15 years with the band this was no half baked effort by her. It was the most successful US single of "No Doubt's" fourth album, "Return to Saturn".
It is a bitter sweet pop song with a haunting melody, about the choices she (i.e. Gwen) must make as a woman with a successful career. It is written in the first person and given the stage in her life at which she wrote it (2 years before her marriage and 5 years before the birth of her first child) it is all about raw emotion and real internal conflict with no confected sentiment. It is no doubt about her relationships with Kanal and Rossdale and her wish to settle down get married and have children.
Notes for the Discussion 
The song is not about a philosophy or a conscious message, so we are not smacked with Catholicism or feminism (although the effects of each are strong here), it's about a very personal desire that we as Conservatives should not mandate but protect and nurture. It is about a woman's yearning for what women have traditionally been; wives and mothers.
This desire is fragile and under great pressure both in the song and in the real lives of its audience, but it is something that even the most talented, rich, famous and uber glamorous have to face and we are glad that the svelte Ms Stefani faces it head on, so publicly. The song opens with a reference to her failed relationship with Kanal: "Not only in love, I was obsessed… It didn't work out."
It quickly makes the desire most obvious when she sings; "all I needed was a simple man so I could be a wife". Note "wife" not partner, lover, significant other, life project, sperm donor, de facto, or mutual co-habitator. But it gets even better when the maternal voice takes over from that of the needy woman:
I always thought I'd be a mom,
Sometimes I wish for a mistake,
The longer that I wait the more selfish that I get,
You seem like you'd be a good dad.
But it's not all perfect for us Conservatives, this is a post feminist woman so she is not free of feminist guilt, she likens her own maternal urge to being like a "sick domestic abuser looking for a fight". But this awkward jarring line simply expresses the deranged psycho pathology that women must deal with when our most intimate, most human and most rewarding relationships are constantly tarred, at a cultural and political level, with the slur of violence, exploitation and abuse.
So cut her a little slack, she is not the most articulate at describing these issues but like everyone of us she must deal with them, she is a pop princess, her prose is much closer to Danni Minogue than Kenneth Minogue. This is the Conservative's answer to the question she poses at the end of the song:
How'd I get so faithful to my freedom,
A selfish kind of life.
The freedom to deny your most intimate desires is no freedom at all in Stefani's (and our) generation. The song does not end in resolution:
Now all those simple things,
Are simply too complicated for my life.
But the resolution of Stefani's own life shows us hope, for she lived her desires and came through this most common struggle living that greatest of all dreams. This anything but average woman is everywoman writ large and may God bless her for showing us that in this great song.
Lyrics
For a long time I was in love
Not only in love, I was obsessed
With a friendship that no one else could touch
It didn't work out, I'm covered in shells

And all I wanted was the simple things
A simple kind of life
And all I needed was a simple man
So I could be a wife

I'm so ashamed, I've been so mean
I don't know how it got to this point
I always was the one with all the love
You came along, I'm hunting you down

Like a sick domestic abuser looking for a fight
And all I wanted was the simple things
A simple kind of life

If we met tomorrow for the very first time
Would it start all over again?
Would I try to make you mine?

I always thought I'd be a mom
Sometimes I wish for a mistake
The longer that I wait the more selfish that I get
You seem like you'd be a good dad

Now all those simple things are simply too complicated for my life
How'd I get so faithful to my freedom?
A selfish kind of life
When all I ever wanted was the simple things
A simple kind of life
– Dominik Giemza
The writer is a legal practitioner and the co-host of Carpe Diem Radio's regular segment: the "Conservative Song" . The above notes were drafted for a live and on air debate about conservative and traditionalist themes which can be found in popular music. Listeners can access Radio Carpe Diem either on air at 2RSR 88.9FM in the greater Sydney region, each Monday between 8:00pm and 10:00pm, or streaming live via TuneIn.com. Feedback is welcome.
SydneyTrads is the internet portal and communication page of the Sydney Traditionalist Forum: an association of young professionals who form part of the Australian paleoconservative, traditionalist conservative, and independent right.