"The journalist's pen gave him many a size and shape, but one thing never changed: his contempt for tradition, his scorn for Western Man per se, and above all the patriotic Frenchman. Like a kind of anti-Joan of Arc, charged by King Dio with a thousandfold mission. To wit, to crush with the wieght of shame and remorse the common, foot slogging soldier of the Western World, lord of its ancient battles, deserted by all his generals to a man, but a powerful force all the same. In column after column, the anti-Joan became, by turns, an Arab workman, snubbed and insulted; a publisher of smut, hauled into court; a black bricklayer, exploited by his boss; a theatre director with a censored play; a young Madonna from some leftist slum; a rioter, beaten for ripping up the streets; a café tough, shot  in his tracks; a student terrorist; a schoolgirl on the pill; the head of a people's culture centre,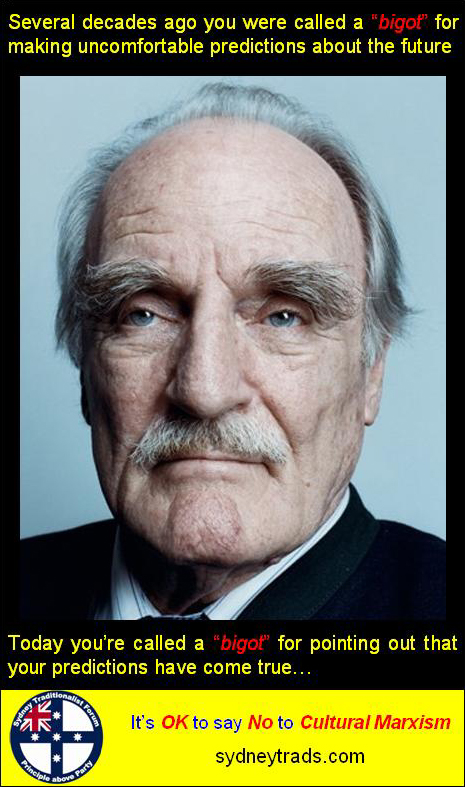 summarily fired; a marijuana prophet; a rebel leader dispensing guerrilla justice; a married priest; an adolescent lecher; an incestuous author; a guru of pop; a female dead from an overdose of love; a pummeled Egyptian, a poisoned Greek, a Spaniard gunned down; a reporter, attacked and beaten; a protester crapping on the Unknown Soldier; a hunger striker, soft in the head; a Vietnam deserter; a big chief thug from the wrong side of town; a faggot with a medical excuse; a sadistic schoolboy tormenting his teacher; a rapist, mind twisted by racks of hard-core porn; a kidnapper, sure of his righteous cause; an incurable delinquent, victim of his genes or society's presures; an abortionist butcher, screaming for his human rights; a Brazilian backwoods wench, sold into São Paulo salons; an Indian dying from a tourist's measles; a murderer calling for prison reform; a Bishop spouting Marx in his pastoral letters; a car thief, mad for speed; a bank thief, mad for publicity's easy life; a maidenhead thief, mad for free and easy sex; a Bengali dead of starvation … And so many more. So many crusading heroes, skillfully chosen to please and persuade. Which they usually did. And why not? When the heart gives way, it's a Turkish bazaar. Freedom is all or nothing. With the likes of this would-be heartrending rabble, these pseudopathetic peons beating his battering rams against the gates, Dio knew that, in time, he was sure to smash them down. When freedom expands to mean freedom of instinct and social destruction, then freedom is dead."
▪ Jean Raspail, Camp of the Saints (The Social Contract Press; 2007) extract from page 69. Originally published as Le Camp Des Saints (Editions Robert Laffont; 1973)
SydneyTrads is the internet portal and communication page of the Sydney Traditionalist Forum: an association of young professionals who form part of the Australian independent right (also known as "dissident right" or "outer right").