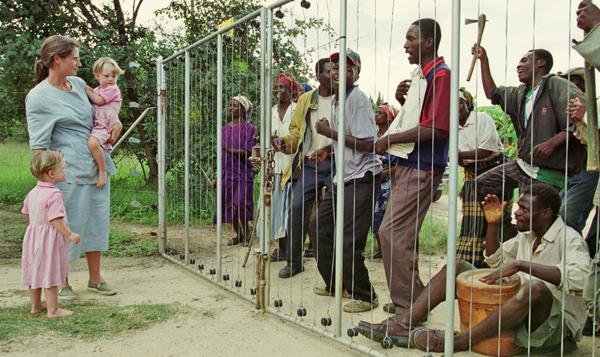 Traditionally, one does not make disparaging or negative comments about the departed, so we will let the mainstream press do that for us instead. Hal Colebatch, writing in The Australian on 16 April 2008, had this to say about Australia's 22nd Prime Minister, Malcolm Fraser, who died earlier today:
"It is hard to know exactly how much responsibility Malcolm Fraser bears for the installation of Robert Mugabe in Zimbabwe, but it is generally agreed that he played an important role. […] Duncan Campbell, a former deputy secretary of the Department of Foreign Affairs and Trade, has claimed that Fraser was a 'principal architect' of the agreement that installed Mugabe and that 'he was largely responsible for pressing Margaret Thatcher to accept it'. […] When Fraser was working to install Mugabe, Zimbabwe-Rhodesia had a black majority government under bishop Abel Muzorewa, a moderate without Mugabe's Marxism or association with terrorist atrocities. […] Muzorewa was apparently prepared to work closely with whites, who he recognised were vital to the economy […] His record suggested he was a man who rejected violence and sought a peaceful settlement. […] A Muzorewa regime might have failed, though with strong British and other Commonwealth support it could have had a good chance of success. In any event, it is hard to imagine how a Muzorewa-led Zimbabwe, retaining the whites' agricultural, commercial and administrative expertise, could have led to a worse outcome than that which has transpired, with the country bankrupt, people starving and democracy in ruins. […] Mugabe came to power tainted with atrocity. Some members of the Patriotic Front, of which he led the biggest faction, specialised in cutting the noses and lips off uncooperative blacks, and shot down civilian airliners, in one case then massacring the survivors at the crash site. Naturally, no one was prosecuted for these crimes. […] Fraser had never publicly criticised the Mugabe regime or said anything to encourage the democratic Opposition in Zimbabwe, not even when Mugabe's thugs raided the Zimbabwe office of aid organisation CARE and abducted the director, though Fraser had been chairman of CARE Australia and president of CARE International."1
The image above shows Pippa van Rechteren and her two daughters Catherine and Elizabeth at their homestead on Chiripiro farm in Centenary district, some 180km north of Harare (Salisbury). The image is obtained from a report in Zimbabwe's The Dialy Maverick of 29 March 2000.2 The caption notes that the mother and daughters watch as government supported farm invaders sing revolutionary songs outside the homestead's electric fence. Malcolm Fraser is unfortunately no longer available for comment.
– SydneyTrads Editors
Endnotes
Hal G. P. Colebatch, "You got him in, so help kick him out" The Australian (online) (16 April 2008 @ 12:00am) <www.theaustralian.com.au> (accessed 20 March 2015).
Branko Brkic, "Pretoria High Court Zim judgment: black eye for Mugabe, headache for SA government" Daily Maverick (online) (26 February 2010 @ 8:42) <www.dailymaverick.co.za> (accessed 20 March 2015).
See also
SydneyTrads is the internet portal and communication page of the Sydney Traditionalist Forum: an association of young professionals who form part of the Australian independent right (also known as "dissident right" or "outer right").