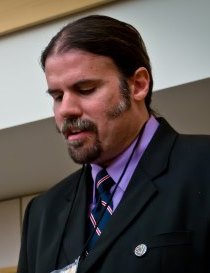 "The guiding principles of contemporary liberal democracies are an all-pervasive consumerism and loudly proclaiming one's own status as an official victim of historic or cosmic injustices, whether real or imaginary. Self-indulgence has only been surpassed by self-pity as the guiding principle of an individual's relationship to the wider society. The commercial value of capitalism, the egalitarian values of Marxism, the psychological values of therapeutic culture, and the tendency toward mob rule inherent in mass democracy have been synthesized by modern societies in such a way as to make the wider and more fundamental values related to the preservation and perpetuation of civilization itself virtually impotent. Perhaps even more dreadful has been the exportation of these manifestations of cultural degeneration to nearly every corner of the globe."
▪ Keith Preston, "Nietzsche the Visionary – a Reflection on the Nature of Civilization Guided by Nietzschean Values" Aristokratia Volume 3 (2015) extract from page 210.
SydneyTrads is the internet portal and communication page of the Sydney Traditionalist Forum: an association of young professionals who form part of the Australian independent right (also known as "dissident right" or "outer right").