On Friday 15 June 2012, members of the Sydney Traditionalist Forum met with other conservatives in the Sydney region to honour the life and work of the late, the Rt. Hon. Enoch J. Powell, on the centenary of his birth. The dinner was held on the eve of this auspicious anniversary, at "Essen" on Broadway, which has recently acquired the reputation as something of a dining haunt for local patriots and other "counter-revolutionaries".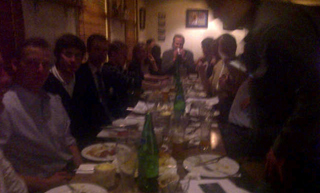 A table was reserved on the first floor, but much of the lower bar was intermittently occupied by members toasting the Greatest Prime Minister Britain never had. Mains followed after a selection of breads and salads were served by the obliging wait-staff. Attendees were treated to platters of veal, pork and chicken schnitzel, wurst and pork belly. Throughout the feast, we remembered the Classicist, warrior, politician, faithful theologian and, we dare say, modern-day prophet. May he rest in peace, and may his memory forever last.
– SydneyTrads Editors
SydneyTrads is the internet portal and communication page of the Sydney Traditionalist Forum, an association of individuals who form part of the Australian paleoconservative, "traditionalist conservative" and "independent right".