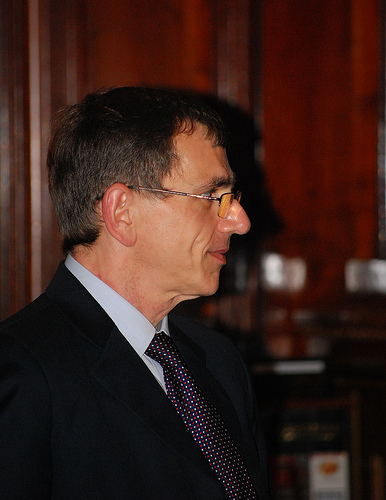 "A Cameron Government, as I have said, seems willing to try coexistence with the Establishment. The Thatcher Government set out to fight and defeat an earlier and less confident version of the Establishment – but only on those fronts where its policies were most resisted. It won numerous battles, but, we can now see, it lost the war.
[…]
"I was, until recently, a committed monarchist. I now have to admit that the Queen has spent the past half century breaking her Coronation Oath at every opportunity. The only documents she has ever seemed reluctant to sign are personal cheques. Conservatives need to remember that our tradition extends not only through Edmund Burke to the Cavaliers, but also through Tom Paine to Oliver Cromwell. We live in an age where it is necessary to be radical to be conservative.
[…]
"There are two ways of doing politics. One is to listen to focus groups and opinion polls, and offer the people what they claim to want. The other is to stand up and tell them what they ought to want, and to keep arguing until the people agree that they want it, or until it is shown not to be worth wanting. I think I know what sort of politicians will run the next Conservative Government. What sort of politicians do you want to be?
[…]
"[W]e have an Establishment that has already given us the beginnings of a totalitarian police state. Today, for example, the authorities will start collecting details of every telephone call, text and e-mail sent in this country. Children are about to have their details stuffed into a giant database that will enable them to be monitored by the authorities until they are adults – and probably through their entire lives. We live in a country where privacy is being abolished. Speech is increasingly unfree. The police are out of control. Everything is getting rapidly worse, and it is easy to see the end state that is desired, of total control.
"If a government of radical conservatives ever does take power, it will have one attempt at saving this country. That means radical and focused actions from day one. Anything less than this, and it will fail. I am suggesting a revolution – but this is really a counter-revolution against what has already been proceeding for at least one generation."
▪ Sean Gabb, Address to Conservative Future, Old Star Public House, Westminster, United Kingdom, 16 February 2009, various extracts.
SydneyTrads is the internet portal and communication page of the Sydney Traditionalist Forum, an association of individuals who form part of the Australian paleoconservative, "traditionalist conservative" and "independent right".