What follows are programme notes for the "Conservative Song" segment of Radio Carpe Diem compiled by Dominic Giemza. The notes were produced for a broadcast of Monday, 2 August 2010, and form the basis of a live on-air discussion about conservative and traditionalist themes that can be inferred from items of popular music. Radio Carpe Diem is Australia's only paleoconservative and traditionalist radio programme and can be accessed online or free to air at 88.9FM at 8:00pm to 10:00pm Mondays (Sydney, Australia). Readers' comments are welcome here at SydneyTrads. Listeners are encouraged to tune in and engage in the discussion.
Making it Through Prayer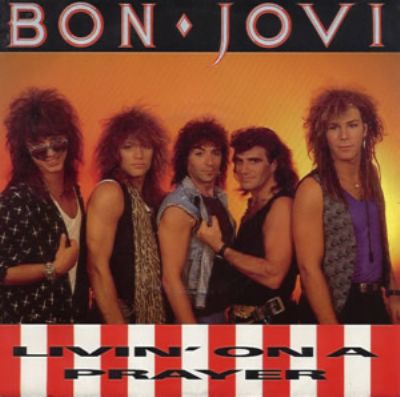 Introduction
"Livin' on a Prayer" was Bon Jovi's second single from their "Slippery When Wet" album. It was written by Jon Bon Jovi, Ritchie Sambora and Desmond Child and released in late 1986.
Jon Bon Jovi was born John Francis Bongiovi, Jr., March 2, 1962 in Perth Amboy, New Jersey, the son of two former Marines, hairdresser John Francis Bongiovi, Sr. and florist Carol Sharkey. His father was of Sicilian and Slovak ancestry and his mother was of German and Russian descent. His mother (born April 5, 1940) was a former model and one of the first Playboy Bunnies. She worked as a florist before enlisting in the United States Marines, where she met her future husband.
He has two brothers, Anthony and Matthew. As a child, he attended St. Joseph High School, in Metuchen, New Jersey, and later transferred to Sayreville War Memorial High School in Parlin, New Jersey. He was brought up a Catholic however is quoted as saying: "I'm what you call a recovering Catholic. I have many major issues with the Church." In spite of this he has been happily married since 1989 and has had four children.
Tragically he has been a Democrat supporter all his life backing "winners" like John Kerry, Al Gore and Hilary Clinton. Let's hope he puts his lot in with Obama next time.
Background
It spent four weeks at number one on the Billboard Hot from February 14–March 7 1987. It also hit number 4 in the UK and number 3 in Australia. The song was resurrected for two post September 11 benefit concerts namely "The Concert for New York City" and "America: A Tribute to Heroes". In 2006, online voters rated "Livin' on a Prayer" #1 on VH1's "list of The 100 Greatest Songs of the '80s"
Notes for the Discussion
Wikipedia has this to say about the song: The song is about a fictional working class couple, Tommy and Gina, who struggle to make ends meet and maintain their relationship. Tommy "used to work on the docks" because "union's been on strike, he's down on his luck." Gina works at a diner, "workin' for her man."
While some have loosely interpreted the lyrics to be anti-labor, inferring that the striking labor union are the catalyst for the troubled chain of events for Tommy and Gina, others have pointed out that the song does not clarify the circumstances behind the strike, and the lone, vague reference does not equate with an anti-union political message. In fact, Jon Bon Jovi explained that he "wrote that song during the Reagan era and the trickle-down economics are really inspirational to writing songs" (whatever that means).
I believe Peter Reith could have written that first verse, a classic symptom of unions pursuing political goals far removed from their duties and mandates to looking after the actual well being of workers. Whilst always open to interpretation for conservatives in Australia and the UK this first verse resonates with Waterside and Mining Disputes that crippled both countries over the years. Importantly Regan, Howard and Thatcher gave their nations decades of prosperity that overcame the early hardships of their time in power, a prosperity that didn't trickle but gushed down to working people, replacing (at least temporarily) the hopelessness of strikes unemployment and an entitlement mindset with SUV's, share portfolios and 'McMansions.'
But aside from the politics this song is clearly from the Christian working class tradition (like Mr Bon Jovi himself). Gina is "working for her man" and "brings home her pay for love" (out of the duty that love and sharing a life brings). But Tommy has made sacrifices too, hocking his beloved guitar and bottling in the emotions he used to express when playing it (because a life shared carries with it reciprocal obligations).
The "prayer" is not metaphorical in the song, it is actual, because in the Christian tradition faith through payer ultimately gives us hope and the song more than anything else is a song of hope. Our couple are "giving it a shot", they "will make it I swear" and it will be  "okay someday." Importantly the chorus states "were half way there" which is both a reference to the love they share (which is all they have got after all) and the fact that they are on the way to achieve that hoped for outcome. We could speculate that the other half may be provided by prayer itself. I suspect Gina may think so, being happy to hold on what they have now.
In all the song overwhelmingly reflects the 'glass half full' approach that a hopeful Christian and resourceful robust American may have when compared against the doom and gloom of a militant proletarian focusing on the 'after life' of revolution at the expense of the happiness and love in the here and now.
Lyrics
Once upon a time,
Not so long ago,

Tommy used to work on the docks,
Union's been on strike,
He's down on his luck … it's tough, so tough,
Gina works the diner all day,
Working for her man, she brings home her pay,
For love – for love.

She says we've got to hold on to what we've got,
'Cause it doesn't make a difference,
If we make it or not,
We've got each other and that's a lot,
For love – we'll give it a shot.

[Chorus:]

Whooah, we're half way there,
Livin' on a prayer,
Take my hand and we'll make it – I swear,
Livin' on a prayer.

Tommy's got his six string in hock,
Now he's holding in what he used,
To make it talk – so tough, it's tough,
Gina dreams of running away,
When she cries in the night,
Tommy whispers baby it's okay, someday.

We've got to hold on to what we've got,
'Cause it doesn't make a difference,
If we make it or not,
We've got each other and that's a lot,
For love – we'll give it a shot.

[Chorus]

We've got to hold on ready or not,
You live for the fight when it's all that you've got.

[Chorus]
– Dominic Giemza
The writer is a legal practitioner and the co-host of Carpe Diem Radio's regular segment: the "Conservative Song" . The above notes were drafted for a live and on air debate about conservative and traditionalist themes which can be found in popular music. Listeners can access Radio Carpe Diem either on air at 2RSR 88.9FM in the greater Sydney region, each Monday between 8:00pm and 10:00pm, or streaming live via TuneIn.com. Feedback is welcome.
SydneyTrads is the internet portal and communication page of the Sydney Traditionalist Forum: an association of young professionals who form part of the Australian paleoconservative, traditionalist conservative, and independent right.